Have your best birthday party EVER at The Matrix!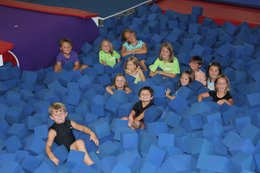 What better way to celebrate your special day than with a Birthday Party or a
Slumber Party at The Matrix?
Let The Matrix entertain your guests with an hour of fun in the tumbling facility and then the last 1/2 hour, you can enjoy cake and presents in a private birthday party room! We provide invitations, a qualified instructor, a dedicated party attendant and assistant (if needed), a clean party area, and TONS OF FUN!!!
You provide snacks, cake & drinks, themed decor and lots of excited guests!
Birthday parties are available all week, with more options on Fridays, Saturdays and Sundays.
The birthday boy or girl does not have to be enrolled in T&T classes to have their party at The Matrix!
During a Tumbling Party, children and their guests will enjoy a non-competitive atmosphere of fun and games! The first hour is full of fun and everyone will enjoy moving around the gym and taking advantage of the equipment only The Matrix has to offer! Children are encouraged to wear comfortable clothing !

~~~~~~~~~~~~~~~~~~~~~~~~~~~~~~~~~~~~~~~~~~~~~~~~~~~~~~~~~~~~~~~~~~~~~~~~~~~~~~~

PARTY PRICING:
A $50.00 non-refundable deposit is due at the time of booking for all birthday parties.
Weekday Birthday Party starts at $185.00
(Mon., Tues., Thurs., Fri. 12:00pm-1:30pm)

Weekend Birthday Parties
$245.00 (1-12 guests)
$295.00 (13-20 guests)
$360 (21-29 guests)
30 or more guests? Call us for pricing!
Fridays 6:30pm
Saturdays & Sundays 12:30pm, 2:30pm, 4:30pm, and 6:30pm- upstairs party room
Saturdays & Sundays 1:30pm, 3:30pm, and 5:30pm- downstairs party room
(Want a longer party?! Call us for pricing!)

Slumber Party starts at $470.00 (up to 15 guests)
(Friday & Saturday nights only 8:00pm-8:00am)
*Price includes 12-hour Matrix employee chaperone and private lock-in slumber party
*Slumber parties are available for same sex as the birthday child
(Opposite sex attendees (including siblings) may stay & party until midnight, but are not permitted to spend the night. NO exceptions.)
*Donuts, milk, and Orange Juice provided by The Matrix for breakfast
*Discounted prices for Church Groups and Lock-Ins available
---
ALL Parties Include:*AN AWESOME TIME!
*PRIVATE PARTY!

*Paper products for the children attending the party

*dessert plates, forks/spoons, and dessert napkins.

(

Choose from Red, Blue, Green, Yellow, Candy Pink, Purple, Black or White)

*Plastic table coverings in the desired color

*Full set-up and clean up by The Matrix staff

*Personal Party attendant

​Add an AMAZING 18' Dual Slide inflatable to your party for $25.00 or your Slumber Party for $50!

​

(FYI: Height minimum 36" for any sliders!)
Be sure to pick up your invitations/waivers and a birthday party brochure at the Front Desk for all the details!